Who doesn't love the satisfying crunch of a good ol' bag of potato chips? They're a classic go-to snack for movie nights, gatherings, and even those solo snacking sessions. But let's be honest, as much as we adore them, we know they're not the healthiest option out there. But fear not, because we've got some fantastic news for you – there are plenty of delicious and nutritious alternatives to chips that will satisfy your cravings and leave you feeling great. So, let's dive right into the world of healthier snack options that you'll be eager to munch on!
Healthy Alternatives to Chips: Homemade Recipes
Here are some fantastic and healthy homemade snack alternatives that not only mesmerize your taste buds but also keep you on track with your health goals:
1. Roasted Chickpeas: Preheat your oven to 400°F. Start by draining and rinsing a can of chickpeas, then pat them dry. Toss these little powerhouses with a drizzle of olive oil, a pinch of salt, and any other seasonings that tickle your fancy. Pop them in the oven for around 20-30 minutes or until they're delightfully crispy. Voilà, you've got yourself a fiber-packed, protein-rich snack!
2. Baked Zucchini Chips: Preheat your oven to 425°F. Slice up some zucchini into thin rounds and give them a good toss with olive oil and a sprinkle of salt. Arrange them on a baking sheet and let them bake for 15-20 minutes until they reach that perfect crispy texture. You've just turned a simple veggie into a delicious chip alternative.
3. Sweet Potato Chips: Lower the oven temperature to 375°F. Slice sweet potatoes into thin rounds, and just like the zucchini chips, give them the olive oil and salt treatment. Lay them out on a baking sheet and bake them for 15-20 minutes. These sweet potato chips will satisfy your cravings with a healthier twist.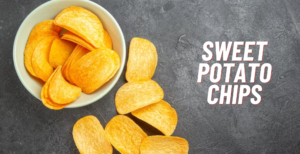 4. Homemade Hummus: Create a creamy, dreamy dip by blending chickpeas, tahini, a squeeze of lemon juice, a hint of garlic, and a pinch of salt in your trusty food processor. Whip it up until it's silky smooth. Serve it with your favorite veggies for a fantastic dipping experience.
5. Edamame Delight: Boil edamame pods in salted water for just 5-10 minutes until they're tender. Drain them and give them a gentle sprinkle of salt. These little green powerhouses are packed with protein and make for an irresistible, nutritious snack.
6. Cheese and Nut Plate: Keep it simple but oh-so-satisfying. Arrange some sliced cheese and a handful of salted nuts on a plate. The combination of flavors and textures is a surefire way to curb your cravings in a healthy way.
7. Dilly Cucumber Bites: Slice cucumbers into delightful rounds and then crown them with a mixture of cream cheese, dill, and a dash of garlic powder. It's a fresh and creamy snack that's perfect for when you're craving something light and flavorful.
These snack ideas are not only easy to whip up but also highly customizable. Feel free to get creative with seasonings and dips to suit your palate. Enjoy guilt-free snacking while staying true to your health goals!
More Recipes: myrecipes
Ready-made Potato Chips Alternatives
Looking for convenient chip alternatives that you can grab from the store shelves? Look no further! Here's a lineup of ready-made options that you can find at your local stores:
1. Kale Chips: You'll spot these crispy green delights in most health food stores, and some regular grocery stores.
2. Sweet Potato Chips: Keep an eye out for these in both your typical grocery store and health food shops.
3. Cauliflower Crackers: Some grocery stores and health food shops offer these as a crunchy and wholesome alternative.
4. Raw Veggie Slices: Many supermarkets offer pre-cut veggie slices, making healthy snacking a breeze.
5. Beet Chips: You can uncover these vibrant chips in select grocery stores and health food shops.
6. Apple Chips: Look for these sweet and crispy delights in most grocery stores and health food shops.
7. Parmesan Cheese Crisps: Certain grocery stores and health food shops carry these cheesy, crunchy treats.
8. Carrot Fries: For a twist on traditional chips, explore the aisles of some grocery stores and health food shops.
As you browse the aisles for these packaged chip alternatives, be sure to give those ingredient labels a once-over. Keep an eye out for any unhealthy additives, excessive sugar, or not-so-healthy fats. While crafting your snacks from scratch is often the best route, these store-bought options can serve as a handy and nutritious stand-in when you're in a hurry.
Benefits of Eating alternatives to Potato
Here are some of the benefits of eating alternatives to potato chips:
They are lower in calories and fat. Potato chips are high in calories and fat, which can contribute to weight gain. Healthy alternatives, such as vegetable chips, air-fried chickpeas, and popcorn, are lower in calories and fat.
They are a good source of nutrients. Many healthy alternatives to potato chips are a good source of nutrients, such as vitamins, minerals, and fiber. For example, vegetable chips are a good source of vitamins A and C, and air-fried chickpeas are a good source of protein and fiber.
They are more filling. Healthy alternatives to potato chips are often more filling than potato chips. This is because they are higher in fiber and protein, which can help you feel fuller longer.
They are less processed. Potato chips are a processed food, which means they have been heavily processed and may contain unhealthy additives. Healthy alternatives, such as vegetable chips and air-fried chickpeas, are less processed and may be a better choice for your health.
If you are looking for a healthier alternative to potato chips, I recommend trying one of the options I mentioned above. They are all delicious and nutritious, and they can help you reach your health goals.
Here are some additional tips for choosing healthy snacks:
Look for snacks that are low in calories and fat.
Choose snacks that are a good source of nutrients, such as vitamins, minerals, and fiber.
Choose snacks that are high in protein and fiber, as these nutrients can help you feel fuller longer.
Avoid snacks that are high in sugar or unhealthy fats.
If you are snacking on chips, choose air-popped popcorn or baked chips instead of fried chips.
Make your own healthy snacks at home, such as fruit and vegetable smoothies, yogurt parfaits, or trail mix.
Research on p
otato chips consumption
Read:
Potato chips and childhood: What does the science say? An unrecognized threat?
This research says that the rapid advancements in technology and modernized lifestyles have led to an alarming increase in the consumption of unhealthy foods, posing a significant risk factor for various diseases. Among these, fried potato chips (FPCs) have emerged as one of the most popular snacks, especially among children. However, research in the field of nutrition has shed light on a concerning issue – FPCs contain substantial amounts of acrylamide, a well-known carcinogenic and neurotoxic substance. Consequently, frequent consumption of FPCs, particularly at a young age, may result in the accumulation of acrylamide in the body, potentially elevating the risk of various diseases. While maintaining a balanced diet can help mitigate this risk, it is imperative to establish additional measures to counteract the oxidative damage caused by the consumption of fried foods. This review underscores the pressing need for comprehensive scientific investigations into the health consequences of FPC and French fry consumption within the general population.
Wrap-up
In summary, there are plenty of tasty and healthy alternatives to traditional chips. From popcorn and veggie chips to roasted chickpeas and rice cakes, these options offer satisfying crunch and nutrition. Seaweed snacks and balanced trail mix provide unique flavors and textures. By incorporating these alternatives into your snacking habits, you can enjoy a variety of delicious and nourishing options while making mindful choices for your health. Snacking has never been so wholesome and satisfying!
 Also Read:
32 Foods That Melt Belly Fat Without Extensive Exercises- Enhanced Fitness