Hey there! Want to learn about walking?
Let's start!
Introduction
Walking presents an excellent opportunity to stay physically active, promote overall well-being, and immerse yourself in your environment. Whether you're an avid fitness enthusiast or seeking a pleasurable outdoor pastime, walking brings with it a plethora of advantages. A frequently asked question in this context is, "What's the typical duration required to walk 4 miles?" This article aims to offer a detailed guide to assist you in estimating the time necessary to traverse this distance, considering multiple factors that can impact your walking pace.
Average Walking Speed
On average, individuals walk at a pace of approximately 3 miles per hour (mph). This means that a person walking at this speed can cover 4 miles in about 1 hour and 20 minutes. Keep in mind that this is just a general estimate. Walking speed can vary greatly from person to person, depending on fitness level, age, and overall health.
Factors Affecting Walking Speed
Fitness Level: Well-conditioned individuals may walk faster than those who are less physically active. Regular exercise can increase your stamina and walking speed.
Age: Younger individuals typically walk faster than older individuals. However, staying active can help people of all ages maintain a reasonable walking pace.
Terrain: The type of terrain you're walking on can significantly impact your speed. Walking on a flat, smooth surface like a sidewalk will be faster than walking on hilly or uneven terrain.
Weather Conditions: Wind, rain, extreme heat, or cold can influence your walking speed. Adverse weather conditions may slow you down.
Personal Comfort: Your comfort level can affect your walking speed. Wearing appropriate clothing and footwear can help you maintain a consistent pace.
How to Calculate Your Walking Time
If you want a more accurate estimate of how long it will take you to walk 4 miles, consider using the following formula:
Time (in minutes) = Distance (in miles) / Walking Speed (in mph)
For example, if your walking speed is 3.5 mph:
Time = 4 miles / 3.5 mph ≈ 1.14 hours
To convert hours to minutes, multiply by 60:
1.14 hours * 60 minutes/hour ≈ 68.4 minute
So, at a pace of 3.5 mph, it would take approximately 68.4 minutes to walk 4 miles.
VIDEO
https://youtu.be/yG6t8r84xyc
Tips for Improving Your Walking Speed
If you want to increase your walking speed and cover 4 miles in less time, here are some tips:
Incorporate interval training: Periodically increase your walking speed for short intervals during your walk.
Maintain good posture: Stand up straight and swing your arms naturally to maintain an efficient stride.
Wear comfortable shoes: Invest in supportive and comfortable walking shoes that fit well.
Stay hydrated and fuel up: Dehydration can slow you down, so drink water before and during your walk. Eating a light snack before walking can provide energy.
Gradually increase your pace: Over time, challenge yourself to walk faster and further to improve your speed and stamina.
Note:
The time it takes to walk 4 miles can vary depending on several factors, including your walking speed, fitness level, and environmental conditions. On average, walking at a pace of 3 mph, it would take approximately 1 hour and 20 minutes to cover this distance. However, individual circumstances may lead to faster or slower walking times. Regardless of your walking speed, remember that the journey is just as important as the destination, and walking offers numerous health benefits along the way. So, lace up your shoes, set a comfortable pace, and enjoy your walk!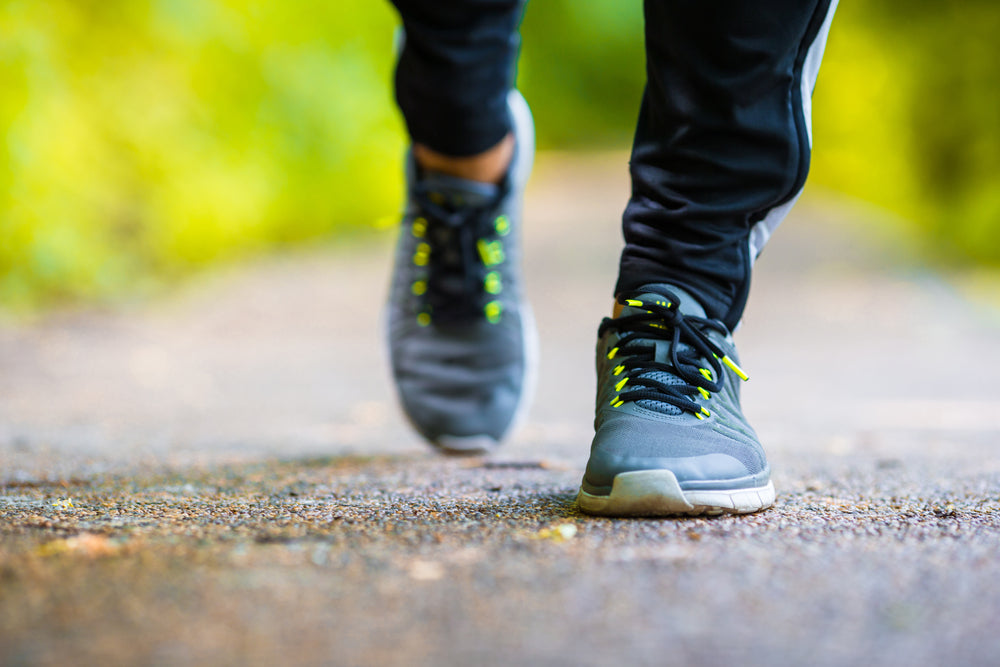 Valuable Tips to prevent Walking Injuries
Walking is an excellent way to stay active and maintain your physical health, but like any physical activity, it comes with the potential for injuries, especially when covering long distances. To ensure you have a safe and enjoyable walking experience, here are some valuable tips to prevent injuries:
Choose the Right Footwear: Start with the basics—your shoes. Ensure you wear proper walking shoes that fit well and offer adequate support. Ill-fitting or worn-out shoes can lead to blisters, foot pain, and even more serious injuries like sprained ankles.
Gradual Progression: When planning to walk longer distances, it's essential to progress gradually. Avoid the temptation to push your limits too quickly. Start with shorter walks and gradually increase both the distance and pace to avoid overexertion. This gradual approach allows your body to adapt to the increased demands, reducing the risk of overuse injuries.
Take Breaks: Long walks can be taxing on your body. Schedule regular breaks during your walks to rest and rehydrate. Fatigue increases the chances of stumbling or losing balance, so taking short breaks can help you stay fresh and alert.
Stretching Routine: Incorporate a stretching routine into your walking regimen. Stretching your muscles before and after walking can help prevent muscle strains and injuries. Focus on stretching your legs, calves, hamstrings, and lower back to maintain flexibility and reduce the risk of strains.
Weather and Terrain Considerations: Dress appropriately for the conditions you'll encounter during your walk. Choose clothing and footwear suitable for the weather and terrain. Slip-resistant shoes can prevent falls on slippery surfaces, while proper clothing can protect you from harsh weather conditions.
Stay Hydrated and Fuel Up: Dehydration can lead to fatigue, muscle cramps, and decreased concentration. Always carry water and consider bringing snacks with you to maintain your energy levels during longer walks. Proper hydration and nutrition are crucial for staying energized and alert.
Listen to Your Body: Pay attention to your body's signals. If you start experiencing pain or discomfort during your walk, it's essential to listen to these warning signs. Ignoring them can lead to more severe injuries. If something doesn't feel right, take a break or cut your walk short.
By following these comprehensive tips, you can significantly reduce the risk of injuries while enjoying the many physical and mental benefits that walking has to offer. Prioritizing safety and taking a cautious approach will ensure that your walking experience remains positive and injury-free.
Exercises to Strengthen the Muscles used for Walking
Walking is a wonderful exercise that offers numerous health benefits, but it's essential to complement your walking routine with targeted muscle-strengthening exercises to prevent injuries and enhance your overall walking performance. Here, we delve into some effective exercises that can help you achieve just that:
Squats: Squats are a powerhouse exercise for strengthening the major leg muscles, including the glutes, hamstrings, and quadriceps. They not only improve leg strength but also help with stability during your walks.
Lunges: Lunges are excellent for working the glutes, hamstrings, and quadriceps, but they also engage your core and challenge your balance. This exercise is fantastic for enhancing both leg strength and stability.
Calf Raises: Strong calf muscles are crucial for providing the necessary push-off power when walking. Calf raises specifically target these muscles, helping you maintain a strong stride.
Planks: Planks are a versatile exercise that primarily focuses on core strength. A strong core is essential for maintaining proper posture during walking, reducing the risk of lower back discomfort.
Bridges: Bridges are effective for strengthening the glutes and lower back. These muscles play a pivotal role in stability and balance while walking, making bridges a valuable addition to your routine.
Heel Walks: Heel walks concentrate on your calf muscles and simultaneously improve ankle mobility. Flexible and strong ankles contribute to a more fluid and pain-free walking gait.
Toe Walks: Similar to heel walks, toe walks target the calf muscles. This exercise not only strengthens your calf muscles but also enhances your balance, which is beneficial for steady walking.
Bird Dog: The bird dog exercise engages your core, lower back, and glutes. Strengthening these muscle groups aids in maintaining stability and balance during your walks, reducing the risk of stumbling or missteps.
Plié Squat: Plié squats are particularly effective for working your inner thighs, glutes, and quadriceps. This exercise contributes to a more balanced leg strength, which can help prevent muscle imbalances that may lead to injury.
Note
Incorporating these exercises into your regular routine can significantly bolster the muscles essential for walking, reducing the risk of injury and enhancing your overall walking experience. However, it's crucial to consult with a healthcare professional or a fitness expert before starting any new exercise program, especially if you have underlying health concerns or are new to strength training. They can provide guidance tailored to your specific needs and abilities. Remember, safety and proper form are paramount when performing these exercises.
How often should I do strength training for walking?
The frequency of strength training for walking depends on several factors, including age, fitness level, and training objectives. Here are some general guidelines:
Aim for a regular schedule of strength training, typically around two to three days per week.
Even training just once a week can be effective in building strength, especially for those with prior weight training experience.
Recommendations for resistance training frequency can vary, typically falling between 2 to 5 days per week, depending on your training background.
The American College of Sports Medicine suggests that a minimum of twice a week is essential for effective strength training.
In a study involving healthy older individuals, a combination of walking and home-based resistance training was conducted three times per week over a 10-week period.
Note:
It is advisable to engage in strength training for walking at least two to three days per week, but the ideal frequency may differ from person to person based on individual circumstances. To determine the most suitable frequency and intensity of strength training for your specific goals and needs, it's wise to seek guidance from a healthcare professional or a certified personal trainer.
Also Read :
how long does it take to walk 2 miles
Conclusion
The time it takes to walk 4 miles depends on several factors, including your walking speed and terrain. On average, a person walking at a moderate pace of about 3 miles per hour can cover 4 miles in approximately 1 hour and 20 minutes. However, if you walk faster, you can complete the 4 miles in less time, and if you walk slower, it will take longer.
Keep in mind that this is just a rough estimate, and actual walking times can vary based on individual fitness levels and environmental conditions. If you're walking on uneven terrain or facing challenging weather conditions, it may take longer. It's always a good idea to plan your walk based on your own walking speed and the specific conditions of your route.