Hello, dear friends!
Guess what? We're about to embark on a journey to explore the amazing world of walking and all the fabulous benefits it brings along! 🚶‍♀️🚶‍♂️
Walking is like the superhero of exercises, right? It's super inclusive – literally anyone can do it, no matter their age or fitness level. And the best part? It showers you with a bunch of awesome health rewards.
Now, if you're curious about how much time it takes to conquer a 5-mile walk, well, it's a bit of a delightful puzzle. You see, it's all about your unique pace, fitness mojo, and even the terrain you're strutting your stuff on. But hey, don't fret! We're here with some cool insights to help you crack the code. So, grab those sneakers, tie 'em up tight, and let's hit the road.
Average Walking Time for 5 Miles:
On average, it takes the typical individual anywhere from 1 hour and 15 minutes to 1 hour and 40 minutes to complete a 5-mile walk. This time frame represents a general guideline, with the actual duration influenced by various personal factors.
Average Walking Speed:
The average walking speed for most people typically falls within the range of 3 to 4 miles per hour. This pace sets the foundation for estimating the time required to walk 5 miles.
Average Walking Pace:
When breaking it down further, the average walking pace typically spans between 15:00 minutes per mile to 20:00 minutes per mile. This range allows for flexibility based on individual capabilities.
Factors Affecting Walking Time:
Numerous variables can impact the time it takes to walk 5 miles, including age, gender, fitness level, and the terrain you're navigating. These factors introduce variability, highlighting that each person's walking experience is unique.
Healthy Duration:
For a healthy individual, a 5-mile walk generally takes between 1 hour and 15 minutes to 1 hour and 40 minutes, falling within the previously mentioned range.
Improving Walking Speed:
If you aspire to enhance your walking speed, there are several strategies you can employ. Increasing your stride length, swinging your arms, maintaining good posture, and building cardiovascular fitness can all contribute to a swifter walking pace.
So basically, the time required to walk 5 miles is influenced by numerous factors, resulting in a typical duration of 75 to 100 minutes for most individuals. This versatile exercise can be tailored to your fitness level, making it accessible to people of all backgrounds. Whether you're a seasoned walker or just starting, wearing comfortable attire, appropriate footwear, staying hydrated, and listening to your body are key principles to ensure a safe and enjoyable walking experience.
In this video you will explore that what happens to your body if you walk 5 miles a day
VIDEO https://youtu.be/QyGVn11nhaI
Benefits of Walking
Walking is a simple yet powerful form of exercise that offers a wide range of physical, mental, and emotional benefits. Incorporating regular walks into your daily routine can have a significant impact on your overall well-being. Here are some of the many benefits of walking: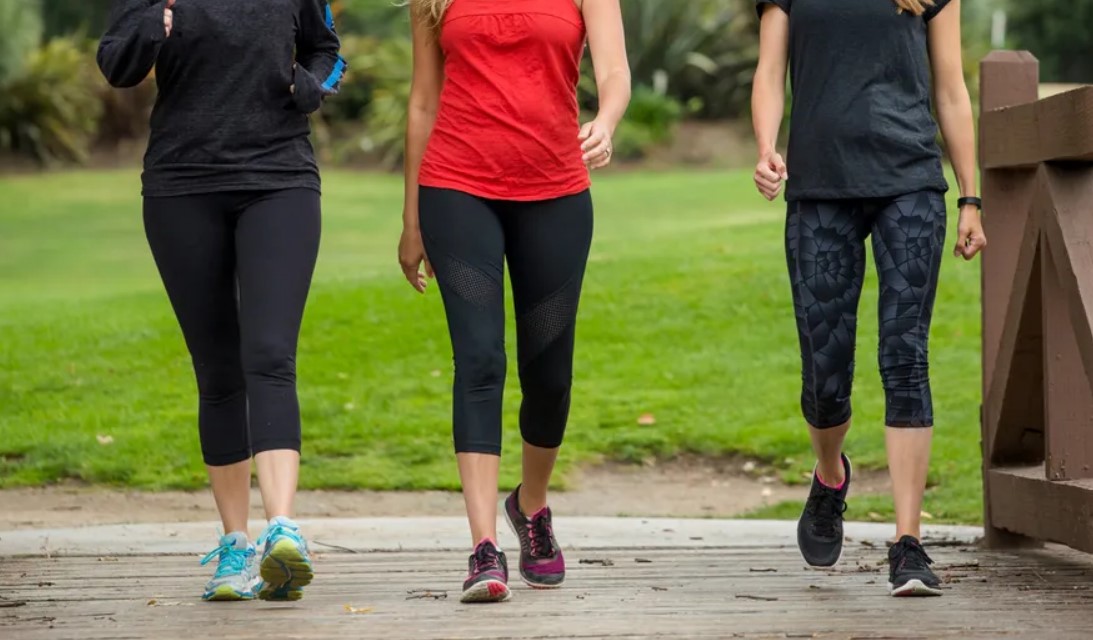 Improved Cardiovascular Health:
Walking helps strengthen your heart and improve circulation.
It can reduce the risk of heart diseases, including high blood pressure and coronary artery disease.
Walking boosts "good" HDL cholesterol levels while reducing "bad" LDL cholesterol.
Weight Management:
Walking is an effective way to burn calories and aid in weight loss or weight maintenance.
It helps increase your metabolism and contributes to fat loss, particularly when combined with a healthy diet.
Enhanced Mood and Mental Health:
Walking releases endorphins, which are natural mood lifters that reduce stress and anxiety.
It can improve mental clarity, boost creativity, and reduce symptoms of depression.
Longevity:
Numerous studies have shown that regular walking is associated with a longer lifespan. It may reduce the risk of chronic diseases and age-related health issues.
Increased Strength and Muscle Tone:
Regular walking engages various muscle groups, including the legs, core, and back.
It enhances muscle tone and strength, helping with better posture and balance.
Nature Connection:
Walking in natural environments can significantly reduce stress and enhance mental well-being. It's a way to connect with nature, offering tranquility and a sense of peace.
Better Digestive Health:
Walking can aid in digestion by promoting the movement of food through the digestive tract.
It can reduce the risk of constipation and other digestive issues.
Enhanced Immune Function:
Regular physical activity, including walking, can boost the immune system's ability to defend against illness. It may help reduce the frequency and severity of colds and infections.
Improved Sleep:
Walking can contribute to better sleep patterns and the ability to fall asleep more easily.
It helps regulate sleep-wake cycles and promotes restful sleep.
Increased Energy Levels:
Engaging in regular walks can boost your energy levels and reduce feelings of fatigue. It can provide a natural energy lift during the day.
Social Connection:
Walking can be a great social activity. When you walk with others, it transforms exercise into an enjoyable social occasion. It's a chance to chat, share stories, and strengthen relationships.
Environmental Benefits:
Walking is an eco-friendly mode of transportation, reducing your carbon footprint compared to driving. It helps decrease air pollution and promotes a cleaner environment.
Mood Enhancement:
 Taking a walk can do wonders for your mood. As Hippocrates once said, "If you are in a bad mood, go for a walk. If you are still in a bad mood, go for another walk." It's a simple yet effective way to lift your spirits.
Social Connection:
Walking provides an excellent opportunity for social interaction. Joining walking groups or taking walks with friends and family can foster relationships and provide a sense of community.
Meditation and Focus:
Walking can serve as a form of meditation. It helps clear your mind, improves your focus, and allows you to be present in the moment, offering mental clarity.
Exploration:
 Walking is a wonderful way to explore new places. Whether it's discovering new neighborhoods, parks, or hiking trails, walking lets you immerse yourself in your surroundings and uncover hidden gems.
Joint Health:
Walking is a low-impact exercise, making it gentle on the joints and suitable for individuals of all ages. It can help reduce the risk of osteoarthritis and alleviate joint pain.
Creativity Boost:
 If you're looking to stimulate creative thinking and problem-solving, taking a walk can help. It's a known catalyst for sparking fresh ideas and inspiring creativity.
Historical and Cultural Insight:
 Consider going on walking tours to delve into the history and culture of a city or region. Walking allows you to absorb the sights, sounds, and stories, making learning an enriching experience.
Supporting Causes:
 Joining walking events, such as charity walks, can be a way to make a positive impact by raising awareness and funds for important causes. It's exercise with a purpose.
Related:
How Long Does It Take To Walk 3 Miles
How Long Does It Take To Walk 4 Miles
Wrap-up
In conclusion, the benefits of walking extend far beyond physical health. Walking can positively impact your mental and emotional well-being, boost your energy levels, and enhance your overall quality of life. It's a simple and accessible activity that can be enjoyed by individuals of all fitness levels, making it an excellent choice for improving your health and happiness.