Hello Dear Friends! orange theory class times
Are you curious about Orangetheory's class timings? In this article, we'll explore how Orangetheory's carefully designed schedules make it easy for everyone to fit an effective one-hour workout into their day.
So let's dive in!
What is Orangetheory Fitness
Orangetheory Fitness is a prominent American boutique fitness studio franchise renowned for its high-intensity interval training (HIIT) workouts. These dynamic workouts are meticulously crafted to maximize fitness gains through a strategic alternation between short bursts of vigorous exercise and more extended periods of active recovery. The core concept behind these workouts is to induce Excess Post-Exercise Oxygen Consumption (EPOC), a phenomenon that continues to burn calories even after the workout has concluded.
Each Orangetheory Fitness session typically spans one hour, during which participants are equipped with heart rate monitors. These monitors serve as valuable tools, enabling individuals to tailor their efforts based on their unique fitness levels. The workouts are structured to encompass a diverse range of exercises, including interval training on the treadmill, indoor rowing, and various exercises on the weight room floor.
Orangetheory Fitness Unique Workout Approach
One of the distinguishing features of Orangetheory Fitness classes is their intimate group setting. With class sizes typically limited to fewer than 30 people, participants can enjoy a more personalized and engaging experience. The daily workouts at Orangetheory Fitness are designed with specific goals in mind, such as building strength, enhancing endurance, or focusing on power. This variety ensures that participants are continually challenged and that their fitness journey remains dynamic and exciting.
At the heart of each Orangetheory Fitness class is a skilled instructor who guides participants through the workout routine. These instructors play a pivotal role by offering expert guidance, correcting form, demonstrating exercises, providing motivation and encouragement, and offering cues to optimize performance. This personalized attention fosters a supportive and motivating atmosphere for all attendees.
Objectives of Orangetheory workouts
One of the primary objectives during the treadmill training portion of Orangetheory workouts is to achieve at least 12 minutes or more in Zones 4 and 5 of the heart rates, which are the higher-intensity zones. This goal is key to unlocking the "after-burn" effect, where the body continues to burn calories at an elevated rate post-workout.
This dynamic approach ensures that participants experience a balanced and comprehensive workout throughout the one-hour class, engaging both cardiovascular endurance and strength training.
The workouts themselves encompass a mix of activities, including interval training on the treadmill, indoor rowing, and a variety of exercises on the weight room floor. This diverse range of exercises keeps the sessions engaging and prevents participants from hitting fitness plateaus.
Class Schedule for Orangetheory
In terms of scheduling, Orangetheory Fitness aims to accommodate a broad spectrum of participants' needs and daily routines. It offered highly efficient and effective one-hour workouts that are designed to provide maximum benefits in a relatively short period of time.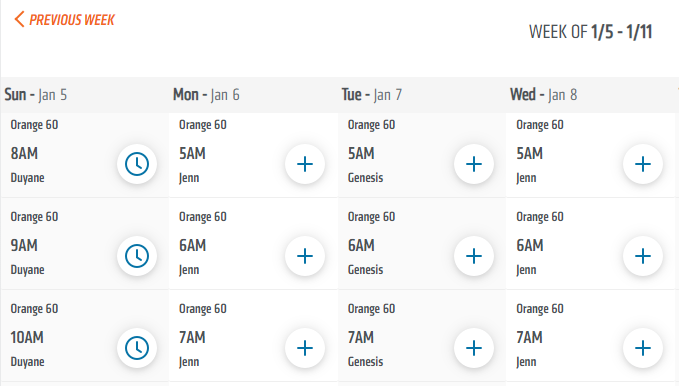 Orangetheory Fitness typically offers a range of class schedules to accommodate the diverse needs and preferences of its participants. While specific class times may vary by location, here's a general overview of the typical class schedule, including morning, afternoon, and evening options:
Morning Classes:
Early Morning: Orangetheory often starts its day with early morning classes, typically ranging from 5:00 AM to 7:00 AM. These sessions are designed for early risers who prefer to get their workout in before their workday begins. Early morning classes can provide a refreshing start to the day and boost energy levels throughout the morning.
Mid-Morning: Mid-morning classes typically fall within the time frame of 8:00 AM to 11:00 AM. These classes are popular among individuals with flexible schedules, such as stay-at-home parents or those with non-traditional work hours. They offer a great opportunity to break up the morning routine with an invigorating workout.
Afternoon Classes:
Lunchtime: Some Orangetheory studios offer lunchtime classes, often scheduled around 12:00 PM or 1:00 PM. These classes are convenient for those who prefer to work out during their lunch break or have a midday break in their daily routine. It's a great way to recharge and refocus for the rest of the day.
Afternoon: Afternoon classes generally start around 4:00 PM to 6:00 PM. These sessions are well-suited for people who want to unwind after work and squeeze in their workout before dinner or evening plans. They also cater to students or individuals with flexible work hours.
Evening Classes:
Early Evening: Early evening classes are usually scheduled between 5:00 PM and 7:00 PM. These classes are a popular choice for participants who prefer to exercise after work, providing an excellent way to relieve stress and boost energy levels before heading home for the evening.
Late Evening: Some Orangetheory studios may offer late evening classes, typically starting around 7:30 PM to 9:00 PM. These sessions cater to individuals with busy daytime schedules or those who enjoy working out later in the day. Late evening workouts can be a great way to wind down before bedtime.
Note:
It's important to note that class schedules can vary from one Orangetheory Fitness studio to another, and some locations may offer additional time slots to accommodate their members' needs. Additionally, Orangetheory often provides weekend classes to give participants more flexibility in their fitness routines. To find the exact class schedule for a specific Orangetheory Fitness studio, individuals can check the studio's website or contact them directly.
Specialty Classes and Events by Orangetheory
Orangetheory Fitness offers a variety of specialty classes and events, each with its unique focus and timing. While the availability of these classes may vary by location, here are some examples of specialty classes and events that Orangetheory may offer, along with their unique timings:
Capture the Flag: Capture the Flag is a fun and competitive event offered by Orangetheory Fitness. Participants engage in team-based workouts while aiming to "capture" the opposing team's flag. This event often takes place in the evening, typically on weekends, to accommodate participants looking for an exciting and social fitness experience after work or on their days off.
Orangetheory Inferno: The Orangetheory Inferno is an intensive fitness challenge that focuses on pushing participants to their limits. These events are typically held during special occasions or as part of fitness challenges, with timings often varying based on the specific event schedule.
Orangetheory Everest Challenge:
The Everest Challenge is a unique event where participants simulate the experience of climbing Mount Everest through challenging workouts on the treadmill. The timing of this event can vary, and it often spans several hours to provide participants with a significant endurance challenge.
Theme Classes: Orangetheory Fitness occasionally hosts theme classes to add an element of excitement to the workouts. These classes may have unique themes like "80s Throwback" or "Superhero Day," and the timings are typically aligned with regular class schedules, offering participants the chance to enjoy a themed workout during their preferred class time.
Special Workshops: Orangetheory studios may offer special workshops and training sessions led by experienced fitness professionals. These workshops can cover a wide range of topics, from nutrition to advanced workout techniques. The timings for these workshops can vary and are often announced in advance.
Charity Events: Orangetheory Fitness studios frequently participate in charity events and fundraisers. These events may have unique timing based on the charity's schedule or specific campaign dates. Participants can join these events to support a cause while staying active.
Milestone Celebrations: Orangetheory often celebrates members' fitness milestones, such as hitting a specific number of classes or achieving personal goals. These celebrations can include special workouts or social events, and their timings depend on when members reach these milestones.
The Importance of Class Timings
Class timings are crucial to Orangetheory Fitness participants for several important reasons:
Scheduling Convenience: Many individuals have busy and demanding schedules, including work, family commitments, and other responsibilities. Class timings matter because they need to find sessions that fit into their daily routines. Orangetheory's range of class times, often starting early in the morning and extending into the evening, provides flexibility for participants to choose a time that works best for them.
Consistency: Consistency is key to achieving fitness goals. Participants often set specific workout schedules, aiming to attend classes regularly. Having a variety of class timings available ensures that participants can adhere to their workout plans, promoting consistency in their fitness routines.
Personal Peak Performance:
People have different times of day when they feel most energized and perform at their best. For some, it might be early in the morning, while others might feel more alert and capable in the evenings. Class timings matter because they allow individuals to choose a time that aligns with their peak performance hours, enhancing the quality of their workouts.
Avoiding Overcrowding: Orangetheory Fitness prides itself on providing personalized attention and guidance. Smaller class sizes facilitate this, and participants may prefer class timings that are less crowded. By having a range of class times, participants can select sessions with fewer attendees, ensuring they receive the instructor's attention and have access to equipment without overcrowding.
Social Interaction: Some participants enjoy the social aspect of group fitness classes. Class timings matter because they allow individuals to choose sessions when they can work out alongside friends or meet like-minded fitness enthusiasts, fostering a sense of community and motivation.
Avoiding Waitlists: Popular class times can fill up quickly, leading to waitlists. Participants who prioritize their preferred class timings can secure their spots in advance, avoiding disappointment and ensuring they can attend the sessions they prefer.
Work-Life Balance: Achieving work-life balance is essential for overall well-being. Class timings matter because they enable participants to carve out dedicated time for self-care and physical fitness, contributing to a healthier and more balanced lifestyle.
Personal Commitment: The act of booking a specific class time creates a commitment. Participants are more likely to follow through with their workouts when they have reserved a spot in a class. Making class timings a crucial factor in maintaining motivation and accountability.
Plateau: To continuously progress and avoid hitting a workout plateau, consistent participation in Orangetheory classes is crucial. Dr. Masteller recommends attending 3-4 Orangetheory classes weekly, supplemented by physical activity on off days. Being aware of class timings and planning workouts accordingly enables participants to maintain the recommended frequency, thus preventing plateaus and promoting ongoing fitness improvement.
Sleep: Adequate rest and sleep are essential for effective training sessions and overall well-being. Knowing the class timings in advance allows participants to plan their day more effectively. Ensuring they have sufficient time for rest and sleep before their Orangetheory workout. This preparation contributes to better physical performance, reduced risk of injury, and an overall sense of vitality and health.
Related:
What is Orangetheory Guest Pass?
Wrap-up
Orangetheory Fitness is a fitness approach that accommodates individuals of all fitness levels. It's an inclusive environment where participants are encouraged to set their own pace and challenge themselves based on their capabilities and goals. Whether you're a seasoned athlete or new to fitness, Orangetheory Fitness provides a platform to improve and excel.
To join an Orangetheory Fitness class, participants can conveniently book their sessions online or by contacting the studio directly. This accessibility makes it easy for individuals to embark on their fitness journey and experience the benefits of this innovative and results-driven approach to exercise.