In the world of bodybuilding, the term "gear" is often used to refer to anabolic steroids and other performance-enhancing substances. While some may have heard wonders about the transformative effects of steroids on physique and performance, it's equally important to understand the potential risks and adverse effects these substances can have on the body and career of an athlete. This article aims to shed light on what gear is in bodybuilding, its various forms, and the factors to consider before deciding to use it, emphasizing the need for informed decisions and awareness about its impact on overall health and well-being.
What is Gear in Bodybuilding?
Gear, in the context of bodybuilding, encompasses a wide range of synthetic substances, including anabolic steroids, growth hormone, insulin, peptides, and more. These substances are frequently used to quicken muscle development, boost strength, lengthen endurance, and enhance overall performance. Bodybuilders and sportsmen may turn to equipment to achieve their physical goals more quickly than by using only natural methods.
What Happens to Body when you take Steroids
You know that amazing feeling when you pump those weights at the gym, right? Well, did you know that every time you do that, your muscles actually experience damage? Don't worry, it's not as bad as it sounds! It's all part of a fascinating process.
Over time these strands increase in thickness and number and ultimately if muscle protein synthesis is greater than muscle protein breakdown your muscles will grow. The degree of growth is largely regulated by testosterone, that increases protein synthesis. That is why men have larger muscles than women as they have higher levels of testosterone.
Now steroids are any compound with a specific 4-ring carbon structure, so the term steroids includes some chemicals that can be used to treat fever and headaches and even sex hormones. But, we're looking at a specific type that aims to mimic natural testosterone to enhance performance in the gym.
Did you know that more than 15% of gym goers use these types of steroids? These can be taken as tablets, injection or through other means.
So, here's the thing – when you take steroids, your genes start to do a little dance. Within a single day, they begin to change their expression. It is like steroids have this special key that easily enters your cells and binds to what we call the androgen receptor. Once inside the nucleus, they attach to your DNA, kickstarting hundreds of genes to increase protein synthesis and slow down protein breakdown. This means you can get 3-5 times more nuclei in some muscle cells, which is fantastic news for muscle growth!
And guess what? Steroids can even prevent the differentiation of fat stem cells, leading to decreased body fat. So you get not only more muscles but also a leaner physique with steroids on board, you'll notice a quick increase in muscle size and strength, making them ideal for boosting exercise tolerance and recovery. Who doesn't want that, right?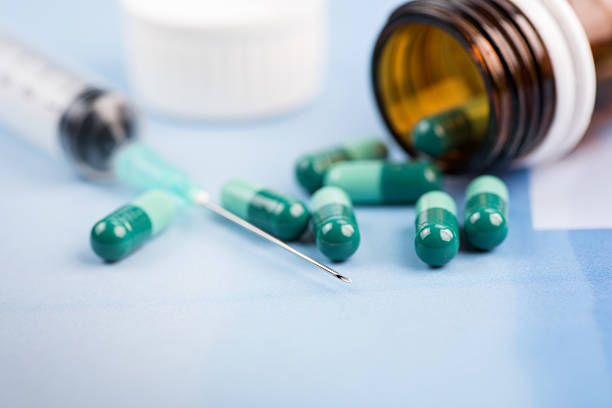 But here's a little heads up – taking steroids for an extended period might start affecting your behavior. Yup, steroids receptors are found in parts of our central nervous system. And that's where the infamous 'roid rage' comes into play. Studies have shown that around 20% of athletes using steroids developed higher manic and depressive scores compared to non-users.
So, like everything else, steroids have their upsides and downsides. It's crucial to understand the risks and make informed decisions when it comes to using them.
Keep in mind that there are plenty of other ways to make progress at the gym, like sticking to a solid workout routine, eating well, and getting enough rest. And always remember, your health and well-being should be your top priority!
Effects of Gear on Bodybuilding
1.Increased Muscle Mass: One of the primary benefits of using gear in bodybuilding is the potential for increased muscle mass. Supplements and steroids can provide the body with the necessary nutrients and hormonal support to promote muscle growth.
2.Improved Performance: Gear can enhance performance by increasing energy levels, improving endurance, and reducing fatigue. This can lead to more intense and productive workouts, ultimately contributing to better results in bodybuilding.
3.Faster Recovery: Certain types of gear, such as protein powder and supplements containing BCAAs (Branched Chain Amino Acids), can aid in muscle recovery and reduce post-workout soreness. This allows bodybuilders to train more frequently and with greater intensity.
Risks and Side Effects
Health Concerns: The use of gear is associated with a range of potential health risks, including cardiovascular issues, liver damage, kidney dysfunction, and hormonal imbalances.
Legal Implications: In many countries, the non-medical use of anabolic steroids and certain performance-enhancing substances is illegal. Athletes caught using banned substances risk suspension, fines, or even permanent bans from competitions.
Psychological Effects: Some users may experience mood swings, aggressive behavior, and even dependency on these substances.
Long-term Consequences: Prolonged use of gear can have severe long-term consequences, including infertility, gynecomastia (male breast development), and voice deepening in females.
Types of Gear in Bodybuilding
Anabolic Steroids: Anabolic steroids are synthetic derivatives of the male sex hormone testosterone. They help promote protein synthesis, leading to increased muscle mass and reduced recovery time between workouts. Some common anabolic steroids used in bodybuilding include testosterone, nandrolone, stanozolol, and trenbolone.
Growth Hormone (GH): Growth hormone is naturally produced by the pituitary gland and plays a crucial role in cell growth and regeneration. In bodybuilding, synthetic GH is used to accelerate muscle repair, increase muscle size, and improve overall body composition.
Insulin: Insulin is primarily known for regulating blood sugar levels. However, in bodybuilding, it is sometimes used to enhance nutrient uptake, leading to more efficient muscle building and improved recovery.
Peptides: Peptides are short chains of amino acids that can influence various physiological processes in the body. Some peptides, like IGF-1 (Insulin-like Growth Factor-1) and GHRP-6 (Growth Hormone-Releasing Peptide 6), are popular in bodybuilding circles for their growth-promoting properties.
RESEARCH
Below is the abstract of the Research Paper that presents an all-encompassing examination of the effects of AAS use on various body systems. Adverse effects of anabolic steroids in athletes: A constant threat 
Abstract
Anabolic-androgenic steroids (AAS) are commonly used as performance-enhancing substances by both athletes and non-athletes to boost muscle development and strength. However, AAS administration is not without its risks and is associated with various adverse effects, often dependent on the dosage. The misuse of high and frequent doses of AAS for athletic enhancement can result in severe and irreversible organ damage. Some of the most prevalent adverse effects of AAS include reduced fertility and gynecomastia in males, masculinization in women and children, hypertension, atherosclerosis, blood clotting, jaundice, hepatic neoplasms, and carcinoma, tendon damage, as well as psychiatric and behavioral disorders. This article provides a comprehensive review of the reproductive, hepatic, cardiovascular, hematological, cerebrovascular, musculoskeletal, endocrine, renal, immunologic, and psychological effects associated with AAS use. The importance of drug-prevention counseling for athletes is underscored, emphasizing the need to avoid anabolic steroids and promote honest competition free from doping substances.
Open Confessions of Famous Athletes and Bodybuilders
Here are some athletes and bodybuilders who have admitted to using steroids:
Arnold Schwarzenegger, one of the most famous bodybuilders of all time, has admitted to using steroids during his competitive years
Dorian Yates, a former Mr. Olympia winner, has admitted to using steroids during his competitive years
Ronnie Coleman, a legendary bodybuilder who won the Mr. Olympia title eight times, has openly admitted to using steroids throughout his career
Jay Cutler, a four-time Mr. Olympia winner, has also admitted to using steroids
Flex Wheeler, another bodybuilding legend, has admitted to using steroids throughout his career
Wrap-up
In conclusion, the question of gear in bodybuilding is still complicated and multidimensional. While some athletes may turn to performance-enhancing drugs, it's critical to understand the dangers and stress the value of encouraging a healthy, sustainable approach to reaching fitness objectives. Natural exercise techniques, healthy eating habits, and persistence can provide notable results without sacrificing long-term wellbeing.