Hello there! If you're taking a peek at some stunning female models on social media then you're in for a treat.
In this article, you will meet incredible sexy fitness models who are like having your own personal team of cheerleaders – and they're way more than just workout advisors! They're here to motivate you, teach you, and make sure you know that looking out for yourself is super awesome. Between their energizing workouts, valuable nutrition pointers, body-positive attitude, and a ton of community support, they're your partners in feeling fantastic. So, why not give your social media a boost by adding a few of these fitness superstars?
Sexy Fitness Models
Whitney Simmons
Whitney Simmons has embarked on an incredible journey in the world of fitness that has left an indelible mark on countless lives. Her career began with a passion for health and wellness, inspiring her to create her YouTube channel in 2016. With her genuine personality and relatable approach, she quickly gained a massive following, becoming a trusted source of fitness advice, workout routines, and lifestyle tips. One of her remarkable achievements includes empowering individuals to embrace a balanced approach to fitness, fostering a community that values self-love and personal growth. Whitney's dedication has led to collaborations with renowned brands and the publication of her own fitness guides. Her story stands as a testament to the power of authenticity and the positive impact one can have on the lives of others through a commitment to well-being.
Instagram Handle: https://instagram.com/whitneyysimmons?igshid=MzRlODBiNWFlZA==
Krissy Cela
Krissy Cela has carved an impressive path in the fitness realm, leaving an undeniable impact on her followers. Her journey commenced as a fitness enthusiast sharing her workouts on social media, eventually leading her to create her renowned fitness app and platform, Tone & Sculpt. Krissy's refreshing and inclusive approach to health and fitness has resonated with countless individuals, fostering a supportive community that celebrates progress over perfection. With her emphasis on holistic well-being, Krissy has empowered people to not only achieve their fitness goals but also prioritize mental and emotional health. Through her e-books, workout plans, and motivational content, she continues to inspire individuals worldwide, proving that with dedication and authenticity, anyone can embark on a transformative fitness journey.
Instagram Handle: https://instagram.com/krissycela?igshid=MzRlODBiNWFlZA==
Daisy Keech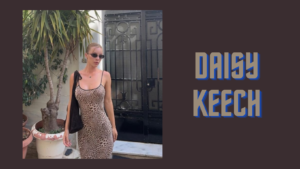 Daisy Keech, a prominent social media influencer, has captured the hearts of many with her engaging content and inspiring journey. Rising to fame through platforms like Instagram, Daisy's career took a remarkable turn when she co-founded the fitness app "Keech Peach" in 2020. Her dedication to promoting body positivity and self-confidence shines through her posts, encouraging her followers to embrace their unique selves. Beyond her online presence, Daisy's venture into the fitness app world showcases her commitment to helping others achieve their wellness goals. Her evolution from a social media personality to an entrepreneur demonstrates her versatility and determination. Daisy Keech continues to leave an indelible mark, motivating individuals to cultivate a healthy lifestyle while celebrating their individuality.
Instagram Handle: https://instagram.com/daisykeech?igshid=MzRlODBiNWFlZA==
Whitney Johns
Whitney has embarked on a remarkable journey in the fitness industry, making a significant impact along the way. Her story began as a competitive athlete, laying the foundation for her passion in health and wellness. Transitioning into a fitness model and influencer, Whitney's authentic approach and dedication to her craft quickly garnered her a devoted following. Her emphasis on weightlifting and strength training has inspired many to challenge themselves and embrace the transformative power of fitness. Whitney's accomplishments include collaborations with renowned fitness brands and the creation of her own workout programs. Her journey showcases the potential for personal growth and empowerment through hard work and a positive mindset. Johns' legacy continues to motivate individuals to push their boundaries and prioritize their well-being.
Instagram Handle: https://instagram.com/whitneyjohns?igshid=MzRlODBiNWFlZA==
Karina Elle
Karina Elle has established herself as a prominent figure in the fitness world, leaving a lasting impression with her inspiring journey. Starting as a fitness model, her dedication and passion propelled her to become a sought-after influencer and entrepreneur. With a focus on balanced living and self-care, Karina's content emphasizes the importance of both physical and mental well-being. Her engaging workouts, wellness tips, and positive mindset have resonated deeply with her audience, fostering a sense of community and empowerment. Karina's journey from modeling to building her brand showcases her adaptability and commitment to making a difference. Through her platform, she continues to motivate and guide individuals towards a healthier, happier lifestyle, proving that with perseverance and authenticity, one can achieve remarkable success in the fitness industry.
Instagram Handle: https://www.instagram.com/karinaelle/
5 Compelling Benefits of Following Fitness Female Models
In today's digital age, fitness female models have taken social media platforms by storm, captivating audiences with their inspirational journeys and transformative content. From Instagram to YouTube, these women are not just showcasing their workout routines and healthy lifestyle choices, but also influencing countless individuals to adopt healthier habits. Here are five compelling benefits of following fitness female models:
1. Motivation and Inspiration:
Fitness female models serve as incredible sources of motivation. Their dedication to fitness, healthy eating, and self-care can ignite the spark needed to kickstart your wellness journey sexy fitness models. Their before-and-after transformations and personal stories show that achieving one's goals is possible with hard work, consistency, and the right mindset.
2. Accessible Workout Ideas:
These models often share their workout routines and exercises, providing valuable insights into various fitness regimens. Whether you're a beginner or a seasoned gym-goer, their content offers a diverse range of workouts that cater to different fitness levels and goals. Plus, their videos often demonstrate proper form and technique, ensuring you get the most out of your workouts while minimizing the risk of injuries.
3. Nutritional Guidance:
Sexy fitness models often give a glimpse into their daily meals and dietary choices. This can offer ideas for nutritious and balanced meals that support your fitness objectives. Learning about their favorite recipes, snacks, and superfoods can help you make informed decisions when it comes to fueling your body.
4. Body Positivity and Self-Confidence:
Many fitness female models promote body positivity and self-love. They embrace their imperfections and encourage followers to do the same. By seeing diverse body types celebrated and appreciated, you're reminded that your worth isn't solely determined by appearance sexy fitness models. This shift in perspective can boost your self-esteem and promote a healthier relationship with your body.
5. Community and Support:
Following fitness female models often means becoming part of a like-minded community. Engaging with their posts, comments, and hashtags can connect you with individuals who share your fitness goals and challenges. This sense of belonging can provide invaluable emotional support, accountability, and a platform to celebrate your achievements.
Related: Famous Female Fitness Models and Their Fitness secrets
Healthy Diet Recipes of Models
Here are some healthy recipes that models use in their diet plans:
Grilled Fish with Steamed Vegetables: A popular choice among models, this recipe involves grilling fish (such as salmon or tilapia) and serving it with a side of steamed vegetables like broccoli, asparagus, or green beans
Chicken Breast with Quinoa and Roasted Vegetables: Models often opt for lean proteins like chicken breast paired with quinoa and a variety of roasted vegetables like sweet potatoes, Brussels sprouts, and bell peppers
Green Smoothie Bowl: Models often start their day with a nutrient-packed green smoothie bowl. They blend together ingredients like spinach or kale, banana, almond milk, and top it with fresh fruits, nuts, and seeds for added texture and flavor.
Greek Yogurt Parfait: A simple and nutritious option, models enjoy Greek yogurt layered with fresh berries, granola, and a drizzle of honey for a satisfying and protein-rich snack or breakfast.
Veggie Omelette: Models often prepare veggie omelettes using egg whites or a combination of whole eggs and egg whites. They add a variety of vegetables like spinach, mushrooms, bell peppers, and onions for a low-calorie and protein-packed meal
Note
It's important to note that these recipes are just a few examples of the meals that some models incorporate into their diets. Each model may have her own unique preferences and dietary needs. It's essential to find a diet plan that suits individual needs and goals. Consulting with a registered dietitian can provide personalized guidance and support.
Related: 32 Foods That Melt Belly Fat Without Extensive Exercises- Enhanced Fitness
Healthy Snacks That Models Eat
Curious about the secret fuel that keeps models energized and runway-ready? These snacks all about maintaining that radiant glow, supporting their busy schedules, and keeping their energy levels up. Whether you're a fashion aficionado or just someone looking for a fresh take on snacking, you're about to uncover the delicious and nutritious snacks that keep models looking and feeling fabulous.
Here are some healthy snacks that models eat between meals:
Nori Chips: Models like to snack on nori chips, which are made from seaweed and are low in calories and high in nutrients.
Frozen Banana: Models often freeze bananas and enjoy them as a sweet and healthy snack. They can be eaten plain or blended into a smoothie.
Pistachios: Pistachios are a popular snack among models. They are high in protein and healthy fats and can help keep you feeling full.
Rice Paper: Rice paper is a low-calorie and gluten-free snack that models enjoy. It can be filled with vegetables and protein for a satisfying and healthy snack.
Yogurt-Dipped Strawberries: Yogurt-dipped strawberries are a sweet and healthy snack that models enjoy sexy fitness models. They are high in protein and antioxidants.
Chia Seed Energy Bars: Chia seed energy bars are a popular snack among models like Alessandra Ambrosio. They are high in protein and healthy fats and can be made at home with just a few ingredients.
Fresh Fruit: Models often snack on fresh fruit like berries, apples, and oranges. They are low in calories and high in fiber and nutrients.
Note
It's important to note that each model may have her own unique approach to snacking. It's crucial to find snacks that suit individual needs and goals. Consulting with a registered dietitian can provide personalized guidance and support.
Below is the video of workouts that Models follow:
Related: Top 5 Female Fitness Models, 'Diet and Workout Tips'