Ever pondered the secret to pushing your physical and mental boundaries to the max? Meet David Goggin, the living embodiment of relentless determination and unwavering resilience. He's more than just a former Navy SEAL; he's an ultra-endurance athlete and an inspirational speaker redefining our perception of true grit. In this captivating article, consider us your tour guides into the extraordinary universe of the Goggin workout. Get ready to be inspired and motivated like never before!
DAVID GOGGIN'S WORKOUT STRATEGY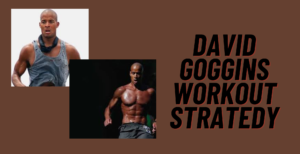 Goggin's approach to fitness is grounded in one word: discipline. He firmly believes that the human body and mind are capable of achieving far more than most people realize, but it requires unwavering discipline and mental fortitude to unlock that potential. Here are some key aspects of his workout philosophy:
Embrace Suffering: Goggin believes that true growth and transformation occur when you push yourself to your limits and beyond. He encourages individuals to embrace suffering and discomfort as opportunities for growth.
Consistency is Key: Goggin remarkable achievements are a result of consistent, daily effort. He emphasizes the importance of showing up, even on days when motivation is lacking.
Mental Toughness: His mantra is "The only easy day was yesterday." He focuses on building mental toughness through challenging physical workouts and self-imposed discomfort.
The David Goggin's Workout Routine
While David Goggin workouts are not for the faint of heart, they can serve as a source of inspiration and motivation for those looking to push their limits. Here's an overview of his typical workout routine:
1. Running
Goggin is renowned for his running prowess. He has completed numerous ultra-marathons and once ran 100 miles in a single day. His running routine often involves long-distance runs, interval training, and hill sprints. Beginners should start with shorter distances and gradually increase their mileage.
2. Calisthenics
Bodyweight exercises are a fundamental component of his workout routine. He incorporates push-ups, pull-ups, squats, and planks into his training. These exercises help build strength and endurance while requiring minimal equipment.
3. Cold Exposure
Goggin is known for his cold exposure practices, including ice baths and cold showers. Cold exposure can enhance recovery, boost the immune system, and improve mental resilience. Start with shorter cold exposure sessions and gradually increase the duration.
4. Strength Training
To complement his endurance training, his includes strength training exercises such as deadlifts, kettlebell swings, and weighted carries. These exercises help build overall strength and prevent injury.
5. Stretching and Mobility
Flexibility and mobility are essential for preventing injuries and maintaining optimal performance. He incorporates stretching and mobility exercises into his daily routine.
| | |
| --- | --- |
| Workout Component | Description |
| Running | – Long-distance runs<br> – Interval training<br> – Hill sprints |
| Calisthenics | – Push-ups<br> – Pull-ups<br> – Squats<br> – Planks |
| Cold Exposure | – Ice baths<br> – Cold showers |
| Strength Training | – Deadlifts<br> – Kettlebell swings<br> – Weighted carries |
| Stretching/Mobility | – Stretching exercises<br> – Mobility work |
In this Video the man shows how living like David Goggin helped him lose more than 36lbs.
David Goggin's Morning Routine
David , renowned for his unrelenting discipline and commitment to physical and mental fitness, follows a rigorous morning routine that sets the tone for his day. In one interview he shared his morning routine. Here's a breakdown of his typical morning activities:
Early Rise: David  starts his day early, waking up at 5 a.m. This early start allows him to seize the day and maximize his productivity.
Stretching: As part of his morning routine, he engages in stretching exercises. Stretching helps him prepare his muscles for the strenuous activities ahead, reducing the risk of injury during his workouts.
Meditation: Meditation is an integral part of his' daily regimen. It provides him with mental clarity and focus, essential for his demanding physical and mental challenges. Through meditation, he hones his mental toughness, a key aspect of his success.
12-Mile Run: He wastes no time in getting his heart rate up. His first task of the day is to embark on an arduous 12-mile run. This grueling run is a testament to his endurance and determination. Running such a significant distance daily not only builds physical stamina but also reinforces his mental resilience.
Post-Run Nutrition: After completing his extensive run, Goggin refuels his body with nourishment. Adequate nutrition is crucial to replenish the energy expended during his morning run and to support his subsequent gym session.
Gym Session: Following his run and a nutritious meal, he heads to the gym. His gym sessions typically last between 45 minutes to an hour. Here, he engages in a variety of strength training exercises designed to enhance his physical capabilities further. This combination of cardio and strength training contributes to his overall fitness.
Cycling: To further diversify his workout routine, he incorporates cycling into his regimen. He dedicates 3-4 days a week to cycling, which offers a different cardiovascular challenge and helps prevent workout monotony.
Related: David Goggins Challenge: Diet, Fitness, and Mental Toughness
Safety Precautions
It's crucial to approach the David's workout routine with caution, especially if you're a beginner or have underlying health concerns. Here are some safety precautions to keep in mind:
Consult a healthcare professional before starting any intense exercise program.
Gradually increase the intensity and duration of your workouts to avoid overexertion and injury.
Pay close attention to your body's signals. Rest when needed, and don't push through pain.
Stay properly hydrated and fuel your body with nutritious foods to support your workouts.
David Goggin's Diet
These dietary practices are integral to his pursuit of physical and mental excellence, emphasizing fat metabolism and disciplined eating patterns. Here's a detailed look at his dietary approach:
Ketogenic Diet: His dietary foundation is the ketogenic diet. This diet is characterized by a low-carbohydrate, high-fat intake that compels the body to switch from burning carbohydrates for energy to utilizing fat stores. The ketogenic diet is renowned for its potential to induce ketosis, a metabolic state where the body burns fat for fuel. This shift in energy sources can lead to increased fat loss and improved mental clarity.
Intermittent Fasting: Complementing his ketogenic diet, Goggins adheres to a strict 8:16 intermittent fasting schedule. In this pattern, he fasts for 16 consecutive hours and consumes all his daily calories within an 8-hour eating window. During the fasting period, he restricts himself to water, black coffee, or tea. This extended fasting period encourages the body to enter a state of ketosis more readily, enhancing fat burning.
Whole, Unprocessed Foods: Within his eating window, he prioritizes whole, unprocessed foods that are rich in protein and healthy fats. Some staples in his diet include lean protein sources like chicken breast and fish, which contribute to muscle recovery and growth. Additionally, he incorporates eggs, avocados, and nuts, all of which are nutrient-dense and align with the ketogenic approach.
Avoidance of Processed Foods: Goggin steers clear of processed foods, sugary drinks, and unhealthy fats. Processed foods are typically high in carbohydrates and can disrupt the ketogenic state, so their exclusion is essential for maintaining the diet's effectiveness.